Our Spring 1 Journey
Week One
Mrs Jacobs and Miss Barber would like to give a warm welcome back to the Acorns children after having two weeks off, and hope that you all had a relaxing holiday.
We have had a very exciting first week back at Acorns, we have had new children starting who have settled in so well.
This week we have been focusing on settling back into the Acorns routine and looking at two nursery rhymes.
Miss Polly had a dolly,
Twinkle Twinkle Little Star.
We have been playing and exploring with the props from each nursery rhyme as well as singing them and learning the actions.
The children have also been creating lots of bright and colourful pictures using a variety of textures.
Our First Trip to the Library.
Every Thursday Acorns will be going to the school library.
We will be choosing some books to take back to class to read throughout the week.
We will read a book together and then afterwards the children will be able to pick some books to have a look at.
The children all walked so well and did some super listening and reading while at the library.
Acorns have a special bag for the library books they want to take back to class.
Week Two.
This week has been a very busy week.
We have been busy playing with lots of new toys, as well as making lots and lots of splashes in the water, marks on the mark making table, creations with the play dough and lots of fun outside.
To mark the fact we are now in winter we have been busy creating winter pictures on the creative table using different materials such as paint, tissue paper and so much glitter. Our wonderful pictures are now hanging with pride on our walls for all the grown-ups to see.
Thursdays are stay and play days, the children's grown ups can stay for 45 minutes and play.
It is awesome to see such a good turn out of parents and they all say how lovely it is to see their children playing.
Week Three.
On Saturday 25th January 2020 thousands of people around the world celebrated Chinese New Year.
This week the children of Acorns have also been celebrating the new year.
We have had red sand in the outside tuff tray for the children to create some shapes and patterns.
Red pasta in the inside sand tray for the children to explore in.
The children had the opportunity to create their own Chinese pictures using black paint on red card using cotton wool buds.
On Friday the children even got to try some yummy Chinese food - spring rolls and prawn crackers.
Acorns have had so much fun celebrating the Chinese New Year.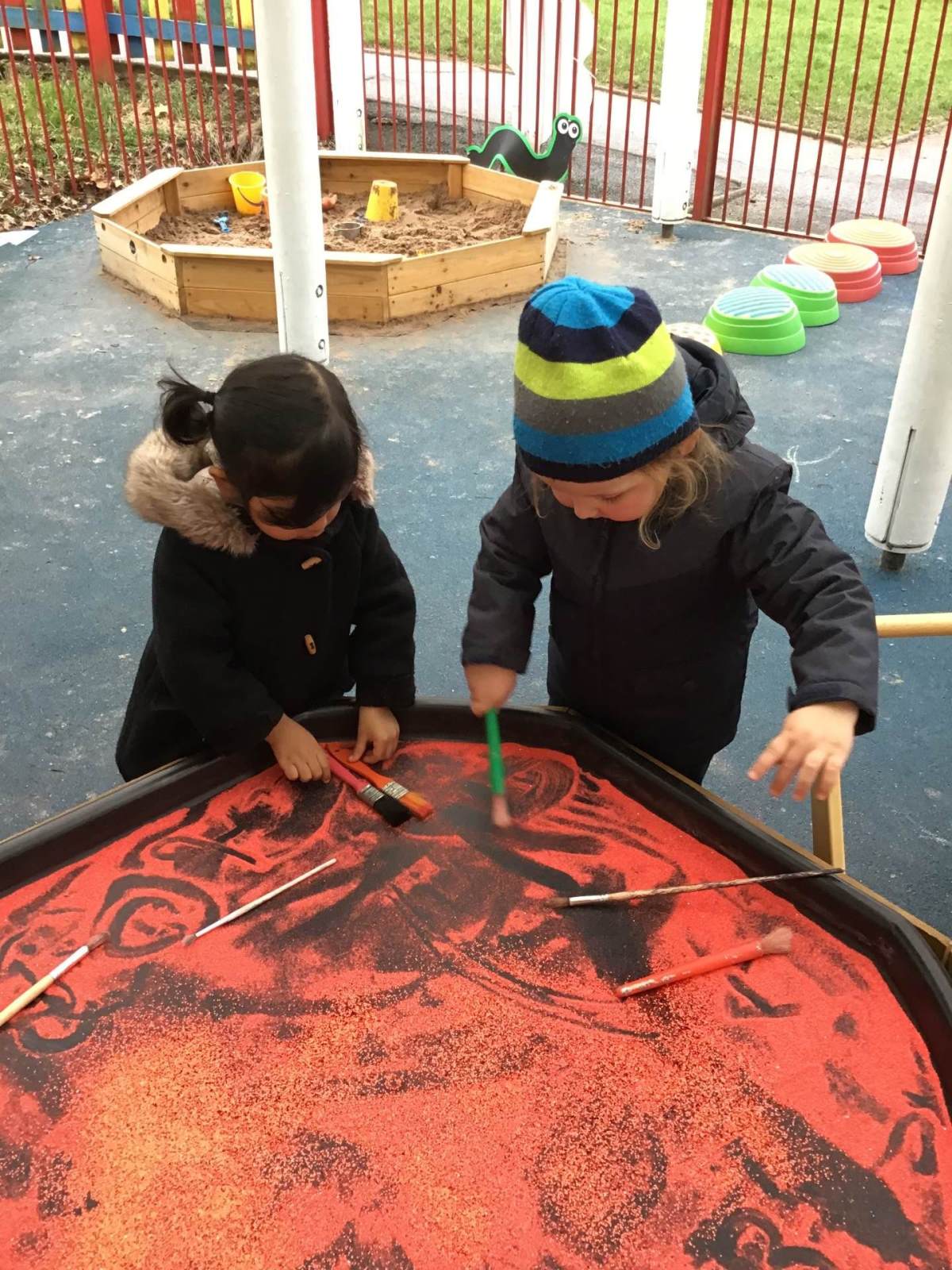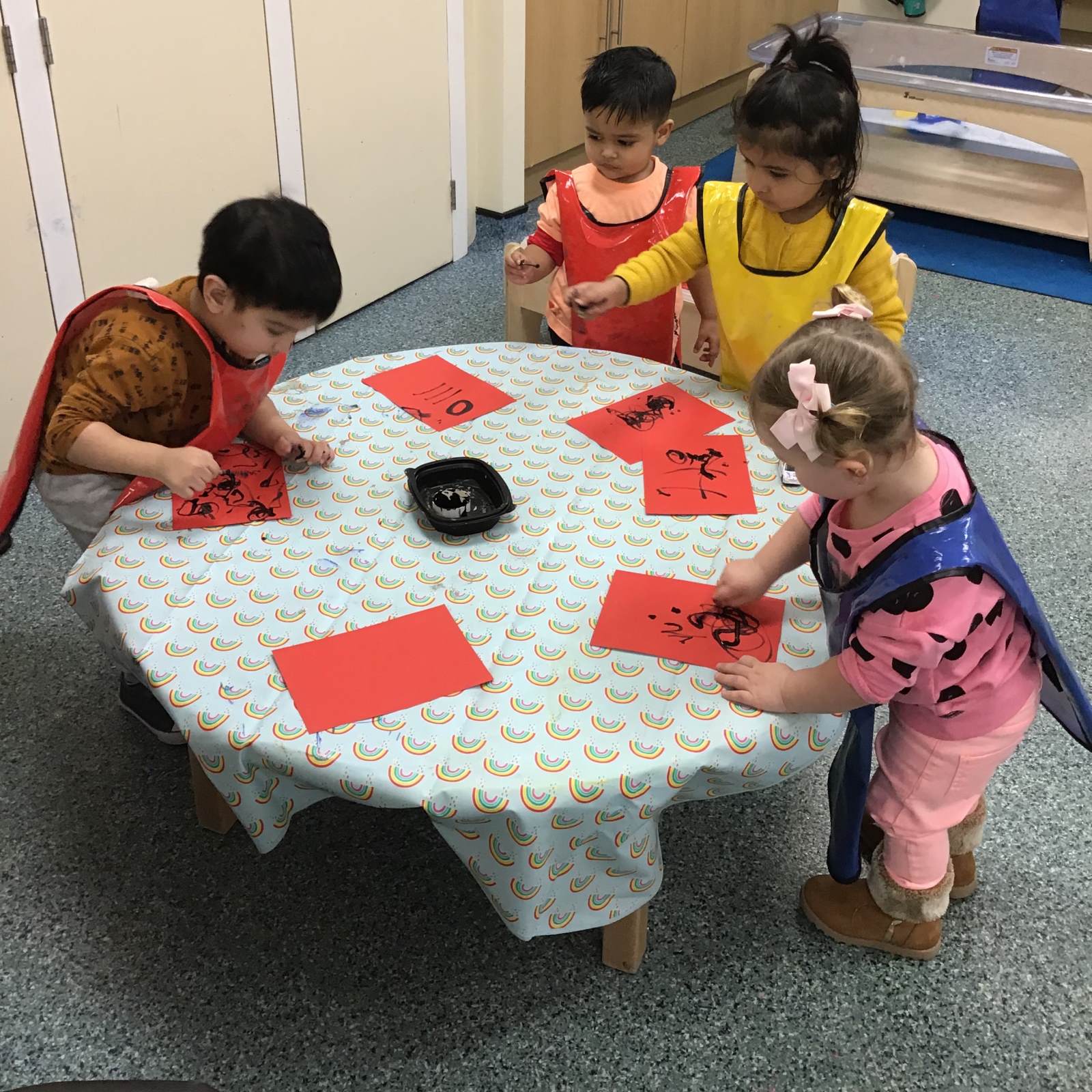 Week Four
This week in Acorns we have been focusing on the Nursery Rhyme 'Wind the Bobbin Up.' The children have been playing with bobbins and ribbons, winding the ribbons round and round.
We have sand back in the sand tray which the children enjoyed filling and emptying buckets, building castles and making marks.
On the creative table, we have been very busy and very messy.
We have been finger painting, making winter pictures using paint and glitter and stamping with the sponges.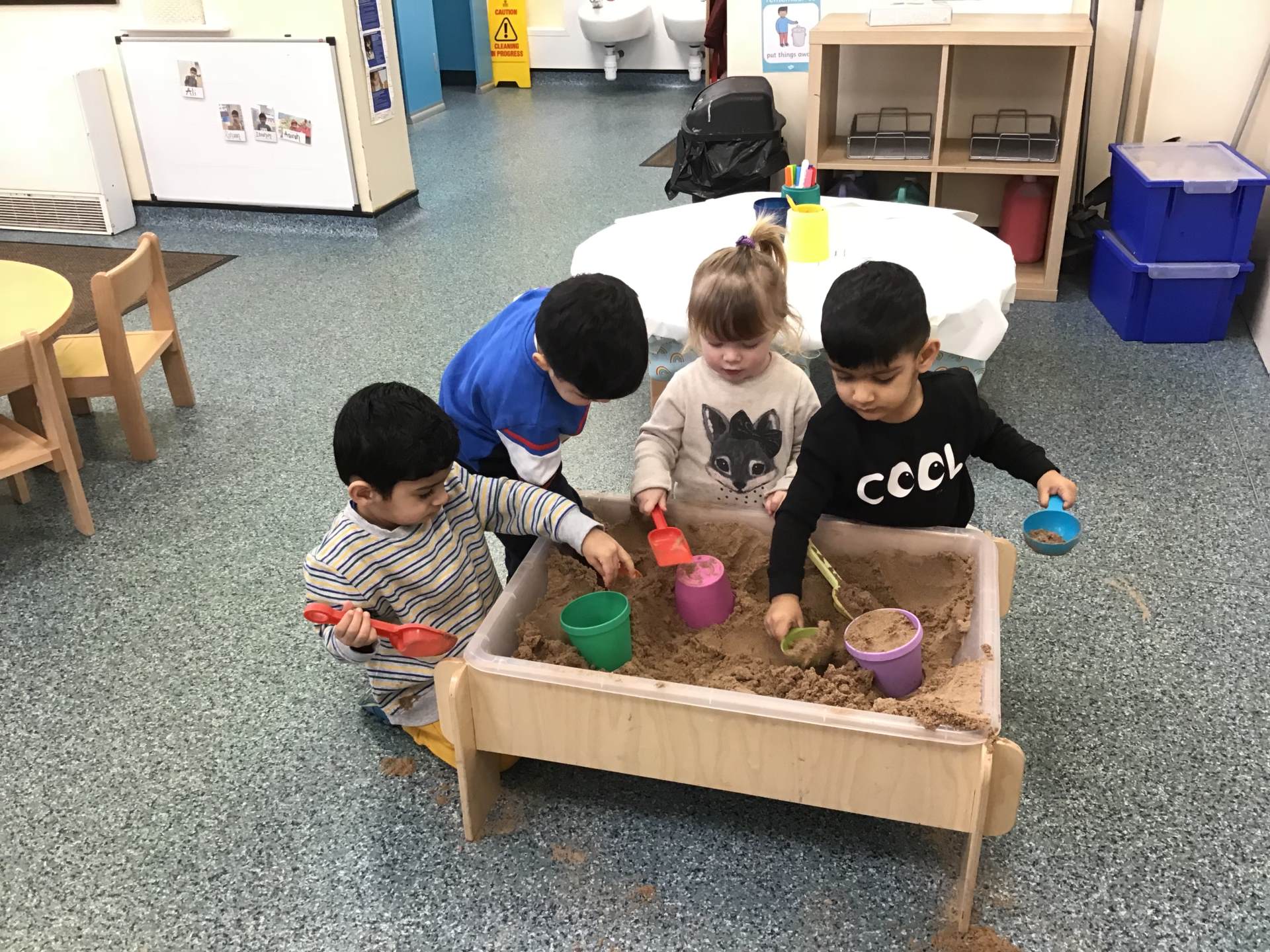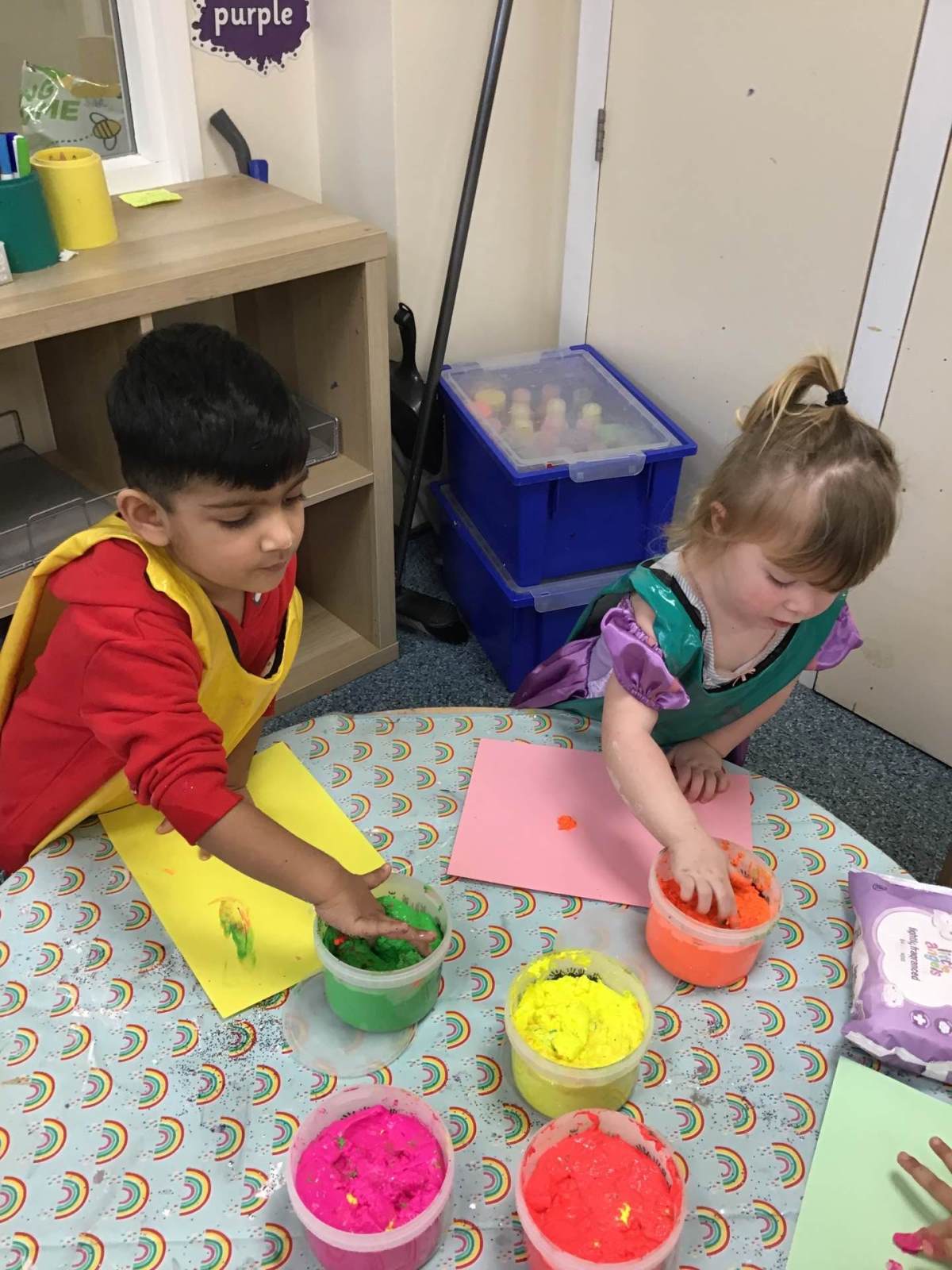 Week Five.
This week in Acorns we have been very creative. We have been printing with carrots and printing with sponges, as well as making lots of pictures using different materials and pens.
We have been practising our scissor skills by cutting up Jack's tissue paper beanstalk in the tuff tray outside.
The nursery rhyme we are focusing on this week is 'Row Row Row Your Boat.' The children have been enjoying doing the actions as well as singing.
The children in Acorns enjoy singing action songs.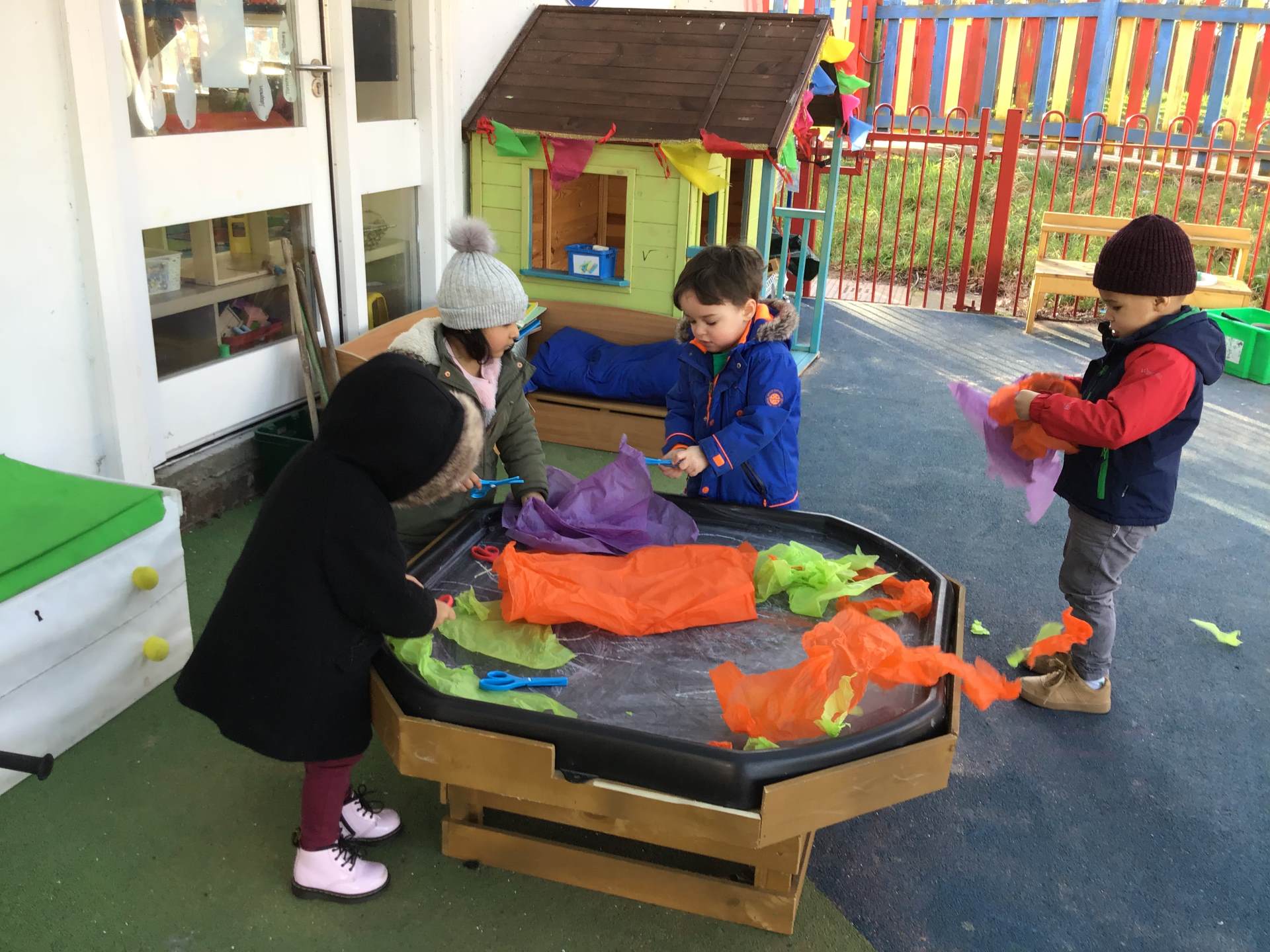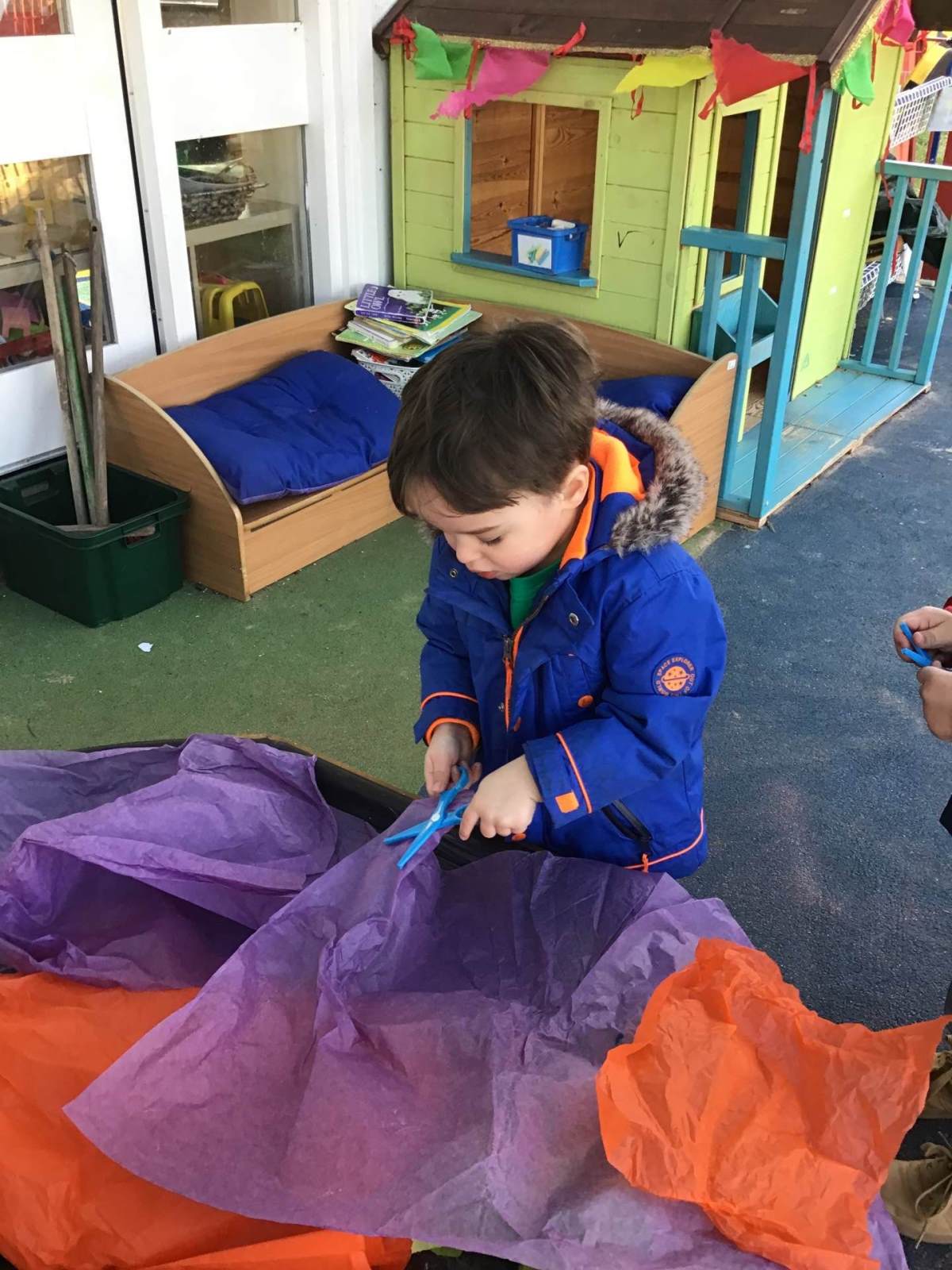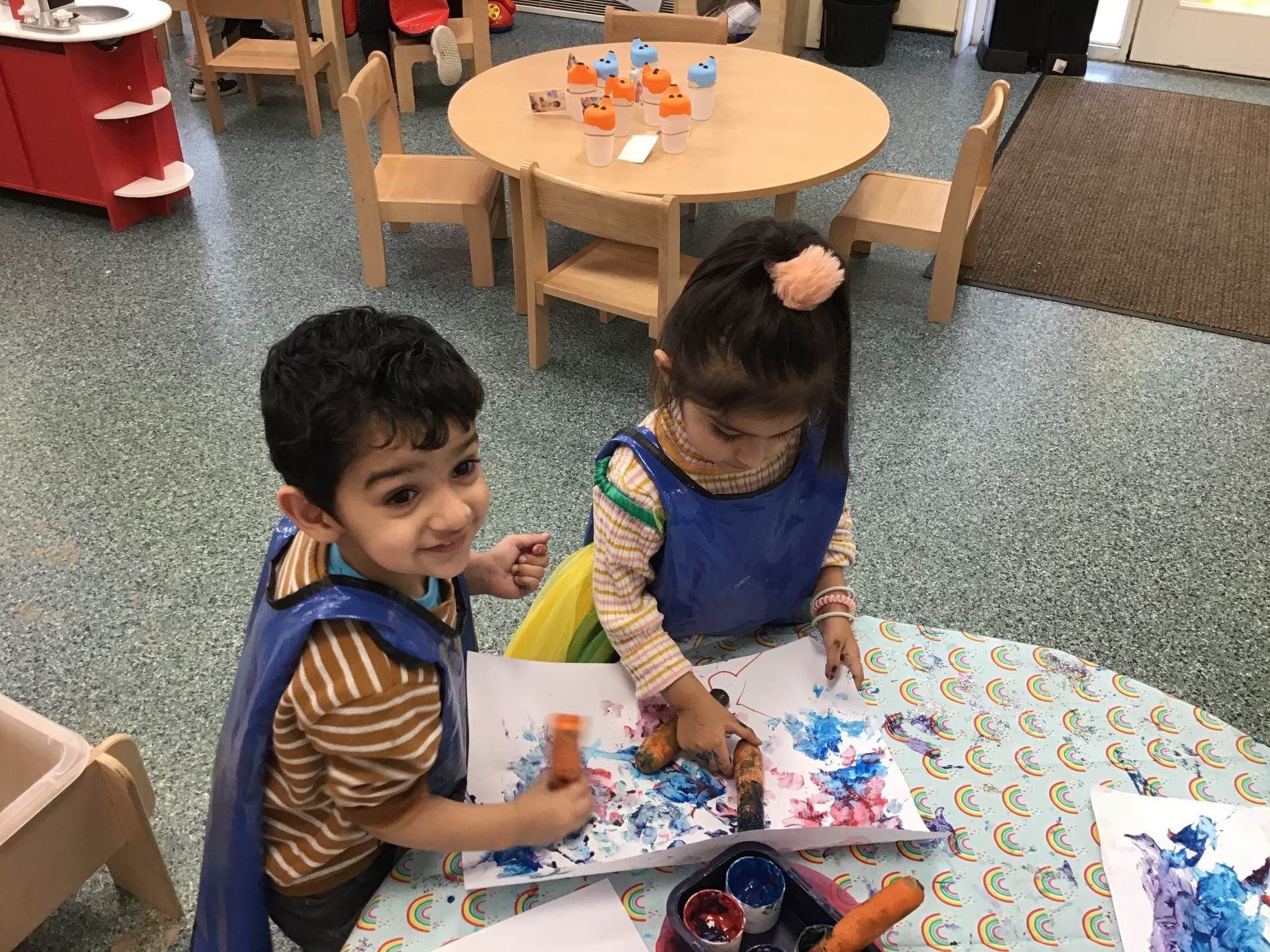 Week Six.
This week we have been exploring with dinosaurs inside and outside. We have had the chance to play and explore with a dinosaur swap outside made up of sand, water and glitter. The nursery has been full of dinosaurs! They have been in the water, in the sand and they even have their own dinosaur land.
On Friday it is Valentines day! To celebrate the children have decorated some cookies with red icing and sprinkles, they have been making potions in the water with flowers and fruit and making some beautiful collage on the creative table with different shades of pink and red tissue paper.
We have stay and play on a Thursday morning where the children's grown ups have the opportunity to stay and play for 45 minutes. This gives the grown ups a insight into what their child get up to at Nursery.
What a quick half term, the children of Acorns have been so busy and had lots of fun this half term. We have welcomed some new children, explored in all the areas of the classroom as well as learning a new nursery rhyme each week.
Miss Barber and Mrs Jacobs hopes you all have a lovely week off and we will see you all on Monday 24th February.